Customized Knee Implants
Resume an active lifestyle after a total knee replacement
Susquehanna Orthopaedics has partnered with Conformis to offer you the latest in knee replacement technology. These customized implants are created to meet the precise size and shape of a patient's knees.
Surgeons usually have no choice but to adjust implant rotation, alignment, and fit because off-the-shelf implants are not engineered to patients' varied anatomy. This is why some patients experience sustained pain after the surgery and why 1 out of 5 aren't happy with their knee implants.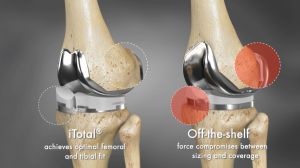 Our partner, Conformis, wanted to address this issue by developing knee implants for every one of our patients. Their aim for this groundbreaking technology is to give you a pain-free lifestyle by helping you recover your natural motion so you can return to your regular activities. These custom-made knee implants are built distinctly for your particular anatomy, providing the best results in knee replacement surgery.
Here are a few reasons why patients stand by Susquehanna Orthopaedics personalized knee implants :
Prevent instability as we maintain your natural joint lines

Unlike off-the-shelf implants, you will enjoy a personalized fit and pain is minimal

Its design follows the contour and shape of every patient's knees for a more natural feeling